New Hampshire, often referred to as the "Granite State," is a haven for nature enthusiasts. With its diverse landscapes, ranging from the majestic White Mountains to the serene lakes and rivers, it offers a plethora of hiking opportunities.
This spring, as the snow melts and the flowers begin to bloom, southern New Hampshire beckons with its unique trails, perfect for a rejuvenating trek. Whether you're a seasoned hiker or a beginner, there's a trail waiting for you.
Let's explore some of the best southern N.H. hiking trails for a spring adventure.
9. Mount Cardigan via West Ridge Trail in Orange
Mount Cardigan, with its rich history and unique landscape, offers a moderate hike that promises breathtaking views and a chance to connect with nature.
The Trail's Tale
Mount Cardigan's rugged, exposed summit is a testament to its resilience. Having survived both glacial plucking and a devastating fire in 1855, this mountain stands tall, offering hikers a unique experience.
As you embark on the West Ridge Trail, starting at the Appalachian Mountain Club's Cardigan Lodge, you'll witness the forest transition from beech and maple trees to hardy spruce and balsam firs. Reaching the summit rewards you with panoramic views of Camel's Hump and the Wapack Range.
Difficulty: Moderate
Length: 2.7 miles round trip
Elevation: 3,155 feet
Elevation gain: 1,194 feet
Tips for the Trek
Ensure you wear sturdy hiking boots, as the terrain can be uneven.
Carry a light jacket; the summit can be windy even during spring.
Consider packing a picnic; the views at the top are perfect for a scenic lunch.
8. White Cliff Overlook via Summit Trail in Newbury
Perfect for a family outing, the White Cliff Overlook trail offers an easy yet engaging hike, culminating in the serene beauty of Lake Solitude by Mount Sunapee.
The Trail's Tale
Imagine a forest alive with the shimmer of a sparkling lake and trees glistening under the sun's rays. This is what awaits you on the White Cliff Overlook trail.
The journey takes you over White Ledges, offering a vantage point to admire the lake, which interestingly sits in the crater of an ancient volcano. The ledges are an ideal spot for a mid-hike lunch, with the lake as your backdrop.
And if you're in the mood for some beach time, Lake Sunapee State Beach is a must-visit on your way back.
Difficulty: Easy
Length: 6.4 miles out and back
Elevation gain: 1,850 feet
Tips for the Trek
Carry sunscreen and a hat; parts of the trail are exposed.
If hiking with kids, pack some snacks and plenty of water.
Don't forget your camera; the views are picture-perfect.
7. Crotched Mountain via Shannon's Trail in Greenfield
Crotched Mountain, with its family-friendly trails and multiple observation decks, is a hiker's delight, offering varied views and a touch of adventure.
The Trail's Tale
As you ascend Crotched Mountain, every step introduces you to a new vista. From the distant silhouette of Monadnock to the tranquil meadows dotted with boulders, the trail is a visual treat.
The hemlock and spruce trees lining the path add to the trail's charm. And for those seeking a bit of thrill, there's some rock scrambling near the summit.
But the effort is worth it, as the top offers views of serene lakes and, if timed right, a mesmerizing sunset.
Difficulty: Easy
Length: 3.4 miles out and back
Elevation: 2,066 feet
Elevation gain: 833 feet
Tips for the Trek
Start your hike in the late afternoon to catch the sunset at the summit.
Wear gloves if you plan to engage in rock scrambling.
Carry a flashlight or headlamp if you plan to descend after sunset.
6. South Mountain via Mountain Trail to Tower Trail in Nottingham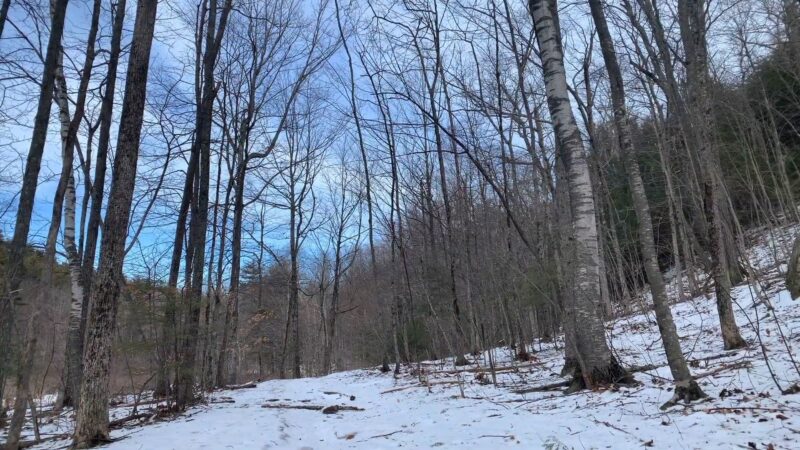 Dive deep into the heart of Pawtuckaway State Park with the South Mountain trail, a journey that promises geological wonders and panoramic views.
The Trail's Tale
South Mountain isn't just a hike; it's a journey through time. The trail takes you through the remnants of volcanic activity from millions of years ago, evident in the "ring dike" formations of the Pawtuckaway Mountains.
Along the way, you'll pass the serene Beaver Pond and Mountain Pond, offering moments of reflection. The dense forest, home to a variety of tree species from hemlock to oak, envelopes you in its embrace.
And the summit? It rewards with views of Pawtuckway Lake, distant mountains like the Uncanoonucs, and on a clear day, even the cityscape of Boston.
Difficulty: Easy
Length: 5 miles out and back
Elevation: 908 feet
Elevation gain: 803 feet
Tips for the Trek
The fire tower at the summit is a must-visit for the best views.
Carry insect repellent; the ponds can be a breeding ground for mosquitoes in spring.
If you're a bird enthusiast, bring binoculars; the forest is teeming with avian life.
5. Wildcat Falls Conservation Area via Wildcat Falls Trail in Merrimack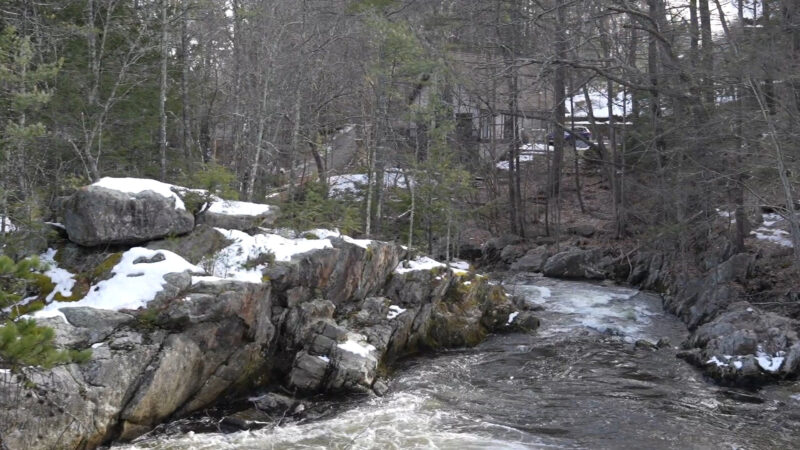 For those seeking a short yet rewarding hike, the Wildcat Falls trail offers a blend of cascading waterfalls and a chance to connect with nature.
The Trail's Tale
The Wildcat Falls trail is a testament to nature's wonders packed in a short distance. As you venture into the Wildcat Falls Conservation Area, the gentle murmurs of the Souhegan River accompany you.
The trail culminates at the magnificent Wildcat Falls, where the cascading waters invite you for a refreshing swim. And if you're in luck, the trail might offer sightings of American kestrels and a chance to pick wild blueberries.
Difficulty: Easy
Length: 2.2-mile loop
Elevation gain: 95 feet
Tips for the Trek
Wear water-resistant footwear; you might be tempted to wade into the falls.
The area around the falls can be slippery; tread with caution.
Post-hike, consider stopping by The Lobster Boat restaurant for a delicious seafood treat.
4. Mount Monadnock via White Dot and White Cross Trails in Jaffrey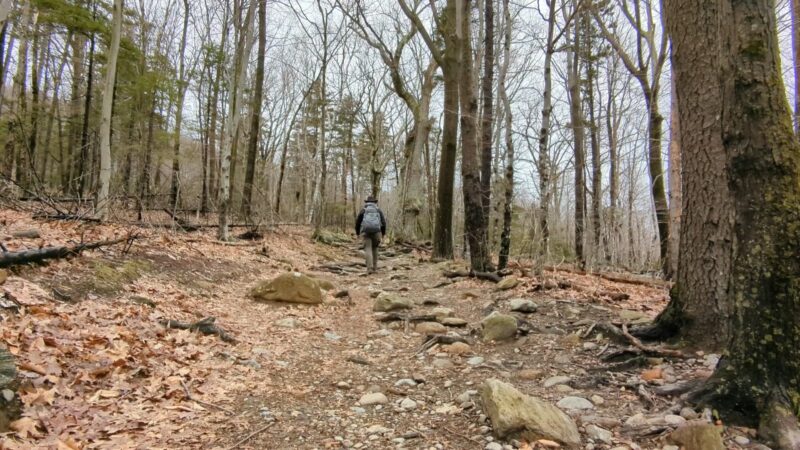 Mount Monadnock, a beacon for hikers worldwide, offers a moderate trek that promises not just panoramic views but also a brush with literary history.
The Trail's Tale
Mount Monadnock, formed millions of years ago from metamorphic rock, stands as an isolated yet formidable peak. As you ascend via the White Dot and White Cross Trails, the mountain unveils its treasures.
The summit offers a 360-degree view, showcasing all six New England states. On a clear day, the distant outlines of Boston and Mount Washington come into view.
This landscape has not only inspired hikers but also literary giants like Ralph Waldo Emerson.
Difficulty: Moderate
Length: 3.8-mile loop
Elevation: 3,165 feet
Elevation gain: 1,774 feet
Tips for the Trek
The peak can get crowded; consider starting your hike early to avoid the rush.
Carry a notebook; the views might inspire you to pen down your thoughts, just like Emerson.
Ensure you check the reservation requirements before heading out.
3. Little Boar's Head Seaside Trail in North Hampton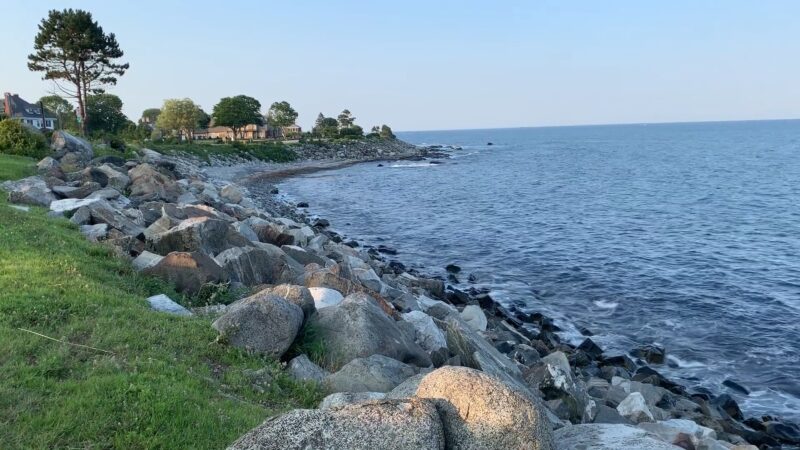 For those who prefer the sound of waves over the rustling of leaves, the Little Boar's Head Seaside Trail offers a coastal escape combined with a hint of luxury.
The Trail's Tale
Walking along the Little Boar's Head Seaside Trail is akin to taking a leisurely stroll through a living postcard. The gentle waves of the Atlantic Ocean crash against the shore, providing a rhythmic backdrop to your journey.
As you meander past opulent homes, the salty breeze carries tales of maritime adventures. And for a quick bite, the Secret Spot offers delicious acai bowls and wraps, making it a perfect pit stop.
Difficulty: Easy
Length: 3.1 miles out and back
Elevation gain: 68 feet
Tips for the Trek
Wear comfortable walking shoes; the trail is more about relaxation than challenge.
Carry a light shawl or jacket; coastal winds can be unpredictable.
Don't forget to carry some cash for your stop at Secret Spot.
2. Mount Kearsarge via Winslow Trail in North Sutton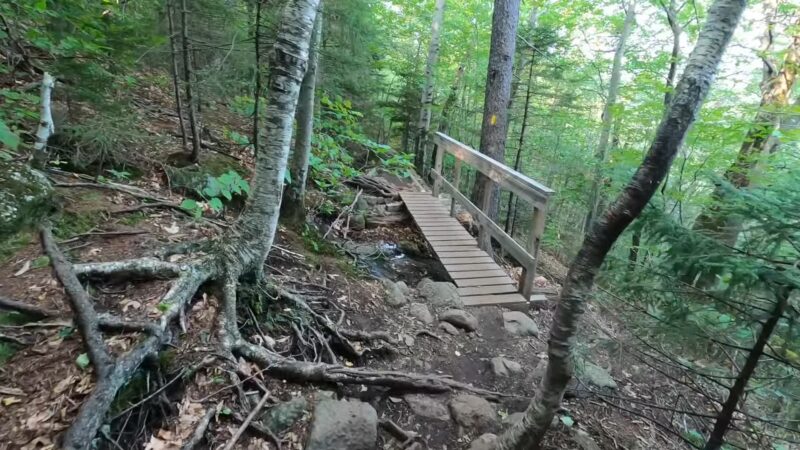 Dive into history and nature with the Mount Kearsarge trail, a journey that promises panoramic views and a touch of the past.
The Trail's Tale
Mount Kearsarge is not just a hiking destination; it's a portal to the past. As you ascend, you tread the same paths where wood was once collected to build the USS Kearsarge during the Civil War.
The trail reveals a summit that was once exposed by a forest fire, now offering unobstructed 360-degree views of surrounding peaks and even the Green Mountains in Vermont. And if you visit during the warmer months, the pink hues of Rhodora flowers near the summit add a splash of color to your hike.
Difficulty: Hard
Length: 1.9-mile loop
Elevation: 2,937 feet
Elevation gain: 1,066 feet
Tips for the Trek
Stay hydrated; the ascent can be challenging, especially during warmer days.
Carry a camera; the summit views are truly Instagram-worthy.
Wear layered clothing; temperatures can vary significantly from base to summit.
1. Cow Lane to Eastman Meadow Trail in Hollis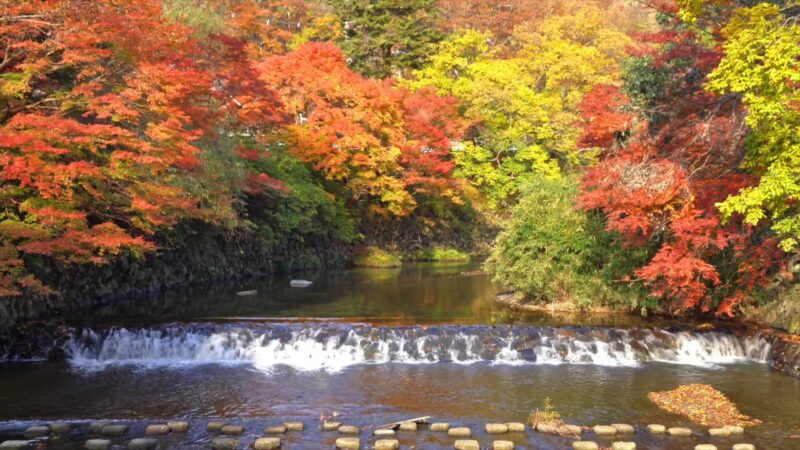 For a peaceful escape from the hustle and bustle, the Cow Lane to Eastman Meadow Trail offers a serene walk amidst nature's simple wonders.
The Trail's Tale
The Cow Lane to Eastman Meadow Trail is a gentle reminder of nature's understated beauty. As you walk past tranquil streams and over quaint boardwalk bridges, the trail offers moments of quiet reflection.
The surrounding American beech trees create a canopy of green, and if you're lucky, you might spot beavers near the pond. And before or after your hike, consider a visit to Parker's Maple Barn for a delightful maple-infused treat.
Difficulty: Easy
Length: 1.9-mile loop
Elevation gain: 150 feet
Tips for the Trek
Wear waterproof shoes; the trail can get muddy after rain.
If you're a birdwatcher, this trail offers ample opportunities for avian sightings.
Parker's Maple Barn can get busy; try to visit during off-peak hours.
FAQ
What is the best time of year to hike in southern New Hampshire?
While spring and summer are popular due to pleasant weather, fall offers a spectacular display of foliage. Winter hikes are for the more adventurous, with snow-covered trails providing a unique challenge.
Are pets allowed on these trails?
Most trails in southern New Hampshire are pet-friendly, but it's always a good idea to check specific trail regulations. Ensure your pet is leashed and you clean up after them.
Do I need any special permits or passes?
Some trails, especially those in state parks or conservation areas, might require a day pass or parking fee. Always check in advance.
Is camping allowed along the trails?
While some trails have designated camping areas, not all do. It's essential to research beforehand and always practice Leave No Trace principles.
How do I ensure my safety while hiking?
Always let someone know your hiking plans, carry essential supplies, check the weather forecast, and be aware of your surroundings. If you're new to hiking, consider starting with easier trails.
Are guided tours available?
Yes, several local organizations and outfitters offer guided hikes, which can provide additional insights into the region's history and ecology.
How do I prepare for sudden weather changes?
Carry layered clothing, and a waterproof jacket, and always have a basic first-aid kit. Checking the weather forecast before heading out is also crucial.
Final Words
Southern New Hampshire is a treasure trove for nature enthusiasts. Its diverse trails cater to both seasoned hikers and those looking for a leisurely stroll.
As you embark on these trails, remember to respect nature, be prepared, and most importantly, enjoy the rejuvenating embrace of the great outdoors. And if you are lucky you'll see an animal such as raccoon, moose, or even a white squirrel.
Happy hiking!